Nowadays almost everyone has a 3D printer in their home, and if you're thinking in purchasing one there are a lot of filament options to choose from. Each type of filament have their own CONS and PROS and today we will discuss each type.
The Most Popular Filament – PLA
The filament everyone uses is probably the PLA filament. It's resistant, easy to print, and very affordable. The only problem is that it might not be suitable for all kinds of projects. It's not flexible so it might not work on some prints. It's very sturdy and hard, but it cannot tolerate much pressure if you thinking in printing a hook or something that needs to hold a lot of weight.
ABS
This ABS filament is the second most popular filament. It's also not that hard to print, but some people might have issues with warping or detaching from the plate while printing if you don't have an enclosed printer. This material is somewhat flexible and can be used for a lot of projects such as hooks and other stuff that needs to bend or move a little. The average print temperature is around 230c (445f) and needs to have a heated be of around 60c(140f) to 80c(176f).
Without a heated bed the print will detach from the bed instantly and you will have a failed print job.
Carbon Fiber
This is not a very well known filament, but it's extremely strong, resistant, and can have a very beautiful finish. It's good for printing parts or prototyping objects. It's also excellent to print statues or buildings since it will have a very clean finish and very durable.
Take a look at a sample we printed with Carbon Fiber filament.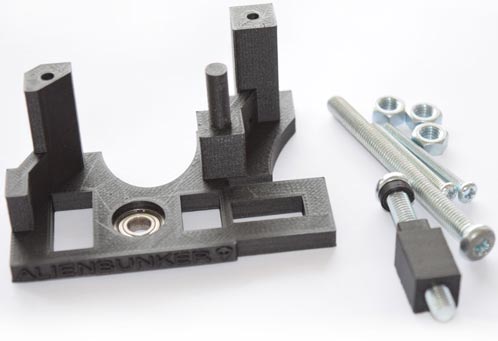 We used ProtoPasta Carbon Filament -> https://amzn.to/36a8omG
The downside of Carbon filament is that it's more expensive, and is very corrosive, which means your printer nozzle will degrade very fast.
A corrosive filament will degrade your printer nozzle by slowly making the nozzle hole larger and larger and this will cause your prints to look really bad and poor. It's recommended to change the nozzle after each filament roll you use.
PETG FIlament
This is an amazing filament. It's very strong, has some flexibility similar to ABS, and doesn't shrink much like ABS does. This material is great for printing parts like the picture above. It's capable of printing very clean prints too and another good thing about this material is that it's priced similar to PLA Filament!
The only downside is that some people might have some difficulty printing this material.
It also requires an enclosed printer, heated bed, and the printing temperature is much higher than most filaments. The average printing temperature for PETG is around 245c to 250c(482f), and some printers might have issues printing at this temperature.
So, in the end, it's up to you to decide which is the best. Each material has it's uses and there's no best filament on the market. If you just want a filament for general use then I would suggest PLA.